When Mohammed Hakmi first steps off the plane in Canada this spring, he'll hardly be the first Syrian refugee to do so. But unlike the tens of thousands of refugees the country has welcomed in the last few years, he won't arrive as part of a sponsored resettlement program. Instead, he'll arrive the same way that many other Westerners moving to Canada do: with an enviable job offer and a skilled-worker visa. 
That's thanks in no small part to the work of Talent Beyond Boundaries, an organization that connects Middle Eastern refugees to companies around the world who are looking for specific skill sets, while working with the countries themselves—like Canada—to improve immigration systems and make those moves possible. The organization is still young; so far it's connected 16 people with job offers. 
One of them was Hakmi, who was connected to Bonfire, a small tech company in Ontario, as part of a joint project with the Canadian government called the Economic Mobility Pathways Project (EMPP). He will be the first to actually begin a job through the help of the program. 
For Hakmi, the job that Bonfire offered him, as a software developer, isn't just an opportunity to escape the difficulties of life in Lebanon. It's also a chance to restart the life that he'd been planning as a university student studying information technology in Homs, Syria, in 2010—before the early days of the civil war forced him and his brother to flee the following year.
"I left my job there, I left my university in Homs, at the beginning I left my family there. I moved with my brother to Lebanon and lived in my aunt's house," he told me over the phone. "I felt that all my dreams and all my plans [were] destroyed at that moment."
He was eventually able to enroll at a Lebanese university to resume his aborted bachelor's degree, paying for it with the wages from a part-time job and various scholarships from the school and local NGOs. It still doesn't always feel real that all those years of hard work (and the lucky Facebook ad that connected him to TBB) paid off. Speaking two weeks before his departure for Canada, he still hadn't started packing for the largest move of his life.
Now, at age 26, "I'm still feeling like I'm lost—what I should take with me, what I should not take—I'm just preparing for a new life. A new everything," Hakmi said.
That new life means that he's "really alive now, and my dream has begun again." For TBB, it's the culmination of four years of work.
In 2015, Mary Louise Cohen and Bruce Cohen, two Washington, DC–based lawyers, went to Lebanon to explore a hunch they'd developed during a year at Harvard's incubator for leaders interested in social impact. The market wasn't working, they suspected. There are scores of businesses around the world who can't find the right employees. And yet there are an estimated five million Syrians effectively removed from the global labor force—people who've fled the ongoing conflict for safer countries like Jordan and Lebanon, people who left meaningful careers behind but who cannot find work in their new host countries. 
"We couldn't believe that no one was looking to the wealth of refugee talent and how they could meet skills gaps around the world," Mary Louise says in February 2019, nearly four years after she and Bruce cofounded Talent Beyond Boundaries. 
There are over 25 million refugees in the world today—a number like to grow as climate change makes land less livable and exacerbates existing sociopolitical tensions. Under the existing framework, there are only three options for those millions of people: voluntarily return home, integrate in their host country, or resettle elsewhere under humanitarian programs.
Mohammed was lucky enough to find work in his host country (even if he says it was underpaid), but many refugees are barred from doing so, either by law or in practice. Moving somewhere where they can use their skills, however, can prove even harder. Dwindling humanitarian spots are supposed to go to the most vulnerable people in refugee communities, and even that's not enough. According to the United Nations, less than 5 percent of global refugee resettlement needs were met last year.
After the Cohens had done enough due diligence while at Harvard and visiting Lebanon to understand the problem, they set out to develop a solution: Letting refugees who can't thrive in their host country move on the basis of their skills to a new country.
"The most vulnerable refugees need legal routes to safety and protection, but what about options for other refugees?" Mary Louise said. "We wanted to change the system, so that refugees could move for international job offers."
As TBB's executive director Sayre Nyce put it, this "seems like something that would have already existed." It didn't, though. So Talent Beyond Boundaries spent a year developing a detailed database of refugees in the Middle East who wanted to participate. The "Talent Catalog" is filled with the types of information employers want to know, like participants' work skills, employment history, and language abilities. Within a year, over 10,000 people had added their information.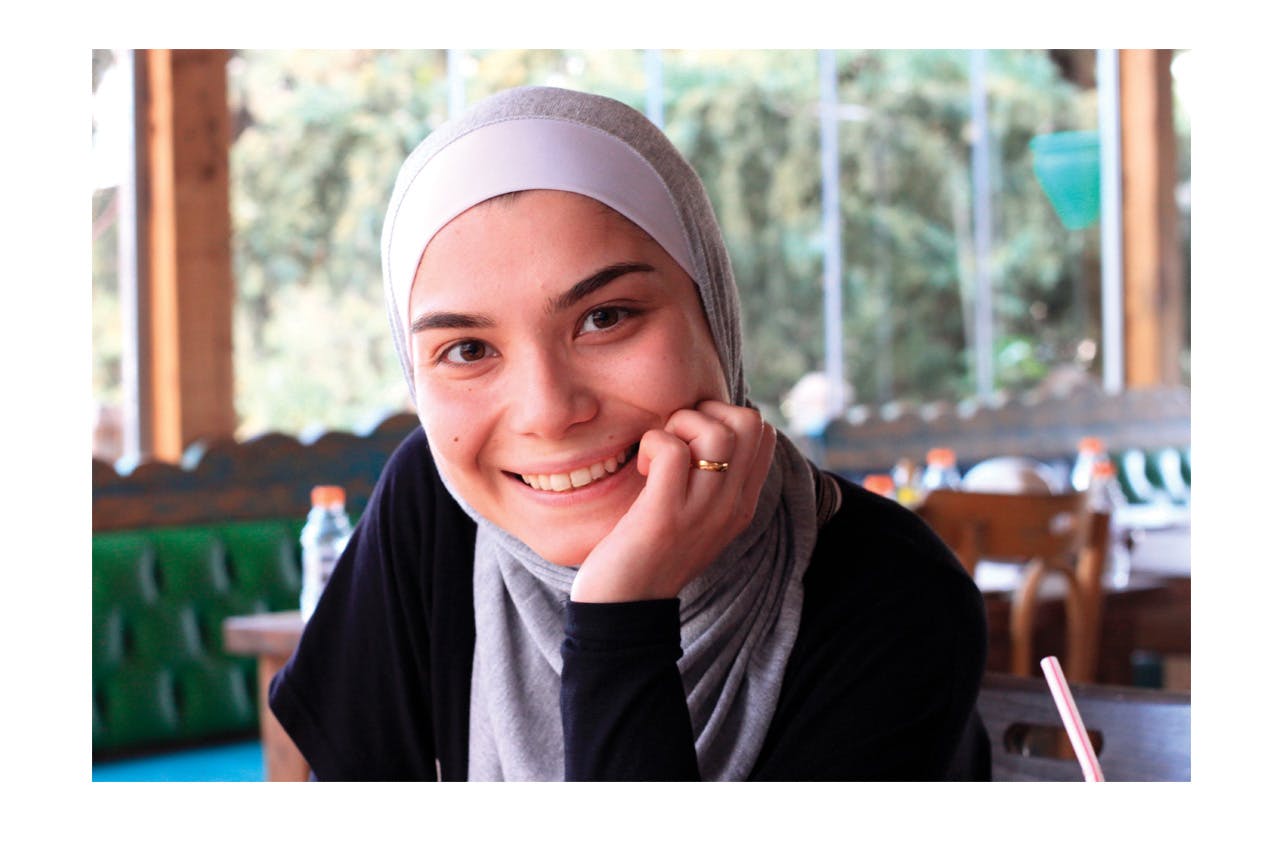 NADA, A MATHEMATICIAN 
BASED IN JORDAN WORKING WITH TALENT BEYOND BOUNDARIES TO FIND A NEW OPPORTUNITY.
From there, Talent Beyond Boundaries began connecting interested companies with their talent pool. One British Columbia business who found three experienced tin roofers in the Talent Catalog—a skill set they hadn't been able to find at home. They extended one of the men a job offer, and he and TBB began making plans for him to move to Canada. 
At this point the group kept running into what Bruce Cohen called "unintended barriers," like an online visa application that hadn't been designed with people who can't return home to renew their passport in mind. "On the provincial website, where you apply for the visa, it asks a question about your passport: What is your passport number; when does it expire? And when we put in the date of an expired passport, it threw us off the system," Bruce said. 
Therein lies the need for the other half of TBB's work. Even when candidates manage to connect with companies halfway around the world, policy can get in the way. And changing those policies means working with the governments who created them. In Canada, TBB found not just a receptive audience, but people who'd already been thinking along the same lines.
"I had a meeting with a high-ranking official here at the Canadian embassy," Bruce says, "and it was one of the best meetings I've ever had on this. As I started, 15 seconds into trying to explain what it was we [at TBB] were trying to do, he stopped me and said, 'I thought of this five years ago.' It was like we were completing each other's sentences."
In 2018, Canada's Ministry of Immigration, Refugees and Citizenship launched the EMPP pilot that Hakmi's participating in. It's a small project: with a budget of under 100,000 Canadian dollars, the agency wants to start exploring what it would take to make existing skilled-labor visas accessible for refugees. TBB and RefugePoint, a similar organization focused on refugees in east Africa, are working with Canada's federal government and five provinces to match Canadian companies with a couple dozen talented refugees currently in Lebanon, Jordan, and Kenya.
The pilot will help the agency "understand what barriers may exist to prevent vulnerable populations from accessing durable solutions and economic self-sufficiency in Canada," IRCC spokesperson Shannon Ker says.
Think back to the roofer: It makes sense to ask for a possible immigrant's passport — it's both identification and a travel document. But there are other ways of proving someone's identity and verifying his or her ability to travel internationally. The International Committee of the Red Cross, for example, can issue travel documents.
"As long as the government authority is willing to think about these things, to spend the time to think about them again and review them," Bruce says, it means that these immigration pathways can be opened up to refugees. 
Halfway around the world, Talent Beyond Boundaries is running another pilot program in Australia. It, too, is small: Ten individuals are being matched with Australian employers, testing the country's existing economic migration pathways.
As noted above, only 16 people have received job offers via TBB so far, though the group says it has several hundred candidates in some stage of the recruitment process—the hope is that these efforts are just the start. There's also RefugePoint, trying to do the same thing with refugees from Africa. But the Cohens and the rest of Talent Beyond Boundaries are thinking bigger.
At the end of 2018, the UN and over 150 countries adopted global compacts on migration and refugees. Adoption wasn't universal; several countries, including Italy and Austria, withdrew their support. But the two international agreements commit countries to strengthen their responses to the global migration crisis.
And, as Bruce notes, each of those compacts "has within it provisions that encourage governments to engage in just [the] type of activity" that his organization is testing out. So the hope is, "with some successes, with some early adopters . . . the stage will be set for expanding the effort."
That's why Sayre isn't particularly concerned about the slow pace of emigrations. The job matches are important—not least of all for the refugees and their families. But this is also about a "systemic change."
"Ultimately, success means labor mobility for refugees is seen as a standard response — it's seen as just one of the many critical tools in a refugee situation," she says. 
Talent Beyond Boundaries envisions a world where governments may have new hybrid visas for skilled refugee workers. Where multinational companies and small mom-and-pop shops alike can turn to international recruitment agencies that staff displaced persons. Where more countries open their doors to skilled refugees, including those nations that don't resettle any right now. 
That's a long way off. As Bruce noted (after more than quarter century's experience serving on the US Senate Judiciary Committee staff), "governments change slowly." But change they must, if you ask Mohammed. 
"Refugees have a power . . . most of them have skills, they have degrees, they are educated," Mohammed says, before walking out the door to attend one of the many goodbye dinners that friends and colleagues had organized for him in Beirut. It's just a matter of opening the pathways so the world can use that power.