Christopher Mikkelsen's entire life has two constants. The first is family. And the second is being a citizen of the world. 
As of this writing, in early spring 2019, the Danish-born entrepreneur is wrapping up a family vacation in Costa Rica—a much-needed break from running Refunite. The ever-evolving tech platform empowers refugees to reconnect with the families they've been separated from. 
Founded in 2008 by Christopher and his brother, David, Refunite has built a massive database of over a million refugees from around the world, and it's helped over 50,000 family members find each other again. More than just a database, Refunite has brought together a family of major telecom companies and foundations who collectively power a whole information ecosystem to help refugees improve their lives. Refunite facilitates everything from the mass communication of community leaders to their networks, to connecting refugees directly with tech-based income opportunities. 
If Uber disrupted the taxi industry and Airbnb is disrupting the hotel industry, Refunite is making major waves in the way we get aid to refugees. The organization just turned 10 years old in 2018, but it's been a lifetime in the making.
When they were younger, the Mikkelsen brothers enjoyed an exciting international life, living in island paradises in Asia, Australia, and Los Angeles, before finally moving back home to Denmark. During this time, the two explored a number of occupations, including documentary filmmaking. Much of their experience involved working with cultures very different from their own. After returning to Copenhagen in 2005, the duo began working a series of odd jobs, one of which was in the realm of refugee aid.
"Both of us started working with young immigrants and refugees, sort of in a 'big brother' capacity," Christopher says. "Help them to come on board, understand how best to navigate Denmark and the West." During that time, the country was seeing a major influx of asylum seekers from Africa—including an average of 200 unaccompanied minors every single day. David was tapped for his documentary experience, this time by the Danish government, to create a film about the integration process that could be used as an educational video. It's at this point that the brothers met Mansour, one of those unaccompanied minors. The 17-year-old, a refugee from Afghanistan, had lost contact with his parents and five siblings during their escape from the Taliban.
The Mikkelsens quickly become good friends with him, and Mansour began to open up about what he had actually been through in order to get to Denmark. The journey he began with his family. The traffickers who had separated him from his parents and siblings. The times he was almost captured, abandoned, malnourished, dehydrated, nearly killed.
It took him five years, but he made it to Denmark. And he fully expected his family to be right behind him. 
"I think it took him, you know, maybe a month, maybe two before he realized that, yeah, they weren't coming," says Christopher. "But Mansour is a special kid, and he made the decision then that he was going to make something of himself, because his family would one day arrive. He decided that when they did, he wanted to be in a position to where you can provide a life for them."
Given how close they were as brothers, Christopher and David couldn't fathom having to go through what Mansour did on his own, without family support. They offered to help him in any way they could to find out exactly what happened to his parents and siblings, accompanying him to all the "usual suspects" of refugee aid nonprofits, NGOs, and international institutions to help him present his case. This is when the Mikkelsens began to encounter the roadblocks.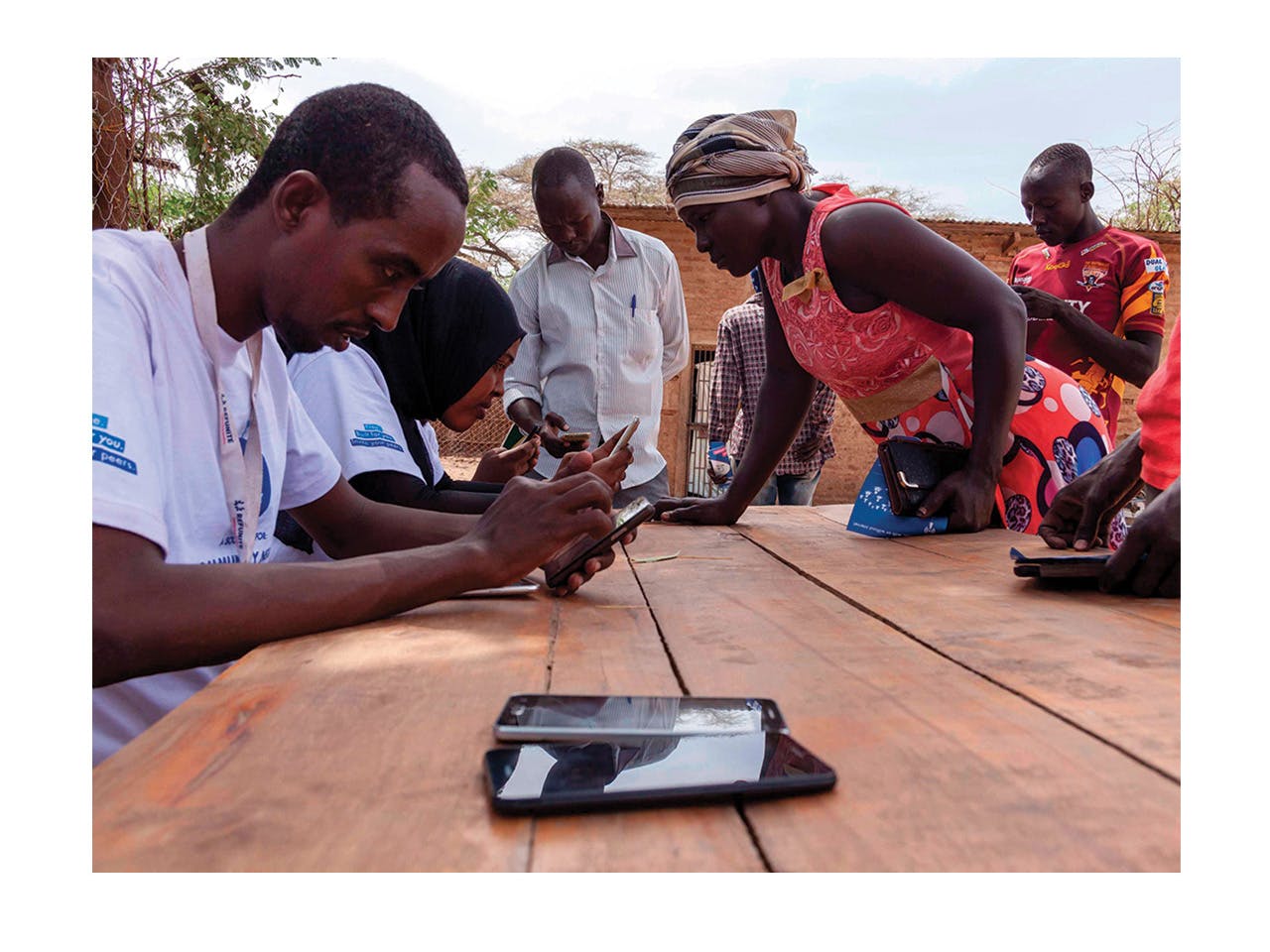 REFUGEES HELP TEST
REFUNITE'S APPS.
Endless paperwork. Physically mailing documents. Pointless runarounds. Disorganized procedures. Overburdened bureaucrats having to search through physical archives. "Mind you, the people we met were lovely, and they all had nothing but the best interests for all the refugees at heart," explains Christopher. "But the structured system they worked in just seemed archaic."
Months came and went with no updates. Not even status notifications about whether the paperwork had even been processed yet. Just complete and utter radio silence. Lack of information.
The Mikkelsens realized they would have to take matters into their own hands, and they made the international journey with Mansour to help track down his family members. Eventually, a year after meeting him, and a full six years after he was separated from his parents, the Mikkelsens were able to reconnect the boy to his family in Moscow—an adventure that could be its own story. This would be the first of thousands of refugee family members they would help reunite, leading directly to the inspiration for Refunite.
Why were these multimillion-dollar nonprofits not collaborating more? Why do they not have any shared digital databases that can easily be accessed? Why is there no IT infrastructure to collect, curate, and distribute all this data across organizations, conflicts, and camps—or most importantly, among the refugees themselves? The brothers tried to position their organization as the answer to all the questions formed as they struggled to reunite Mansour with his family.
Guided by this vision, the Mikkelsens spent the next several years building the database and IT infrastructure. But they did not foresee the reaction: Hardly anyone in the nonprofit and NGO worlds wanted to meet with them. And those who did would often laugh them out of the room. 
"Since nobody [in the nonprofit sector] wanted to play ball with us, we pivoted pretty aggressively," continues Christopher. "We began traveling down to Africa a lot, with funding that could at least enable us to get a better view of things, and we would go into the most desolate areas. We'd be on the borderlands between Kenya and Somalia, and we'd see people that could barely afford to feed their kids and with no clothes on their backs, but they would still have a mobile phone because that phone was a lifeline. It was a way to text message. It was a way to call. It was a way to get access to information, and it was a way to survive."
When the brothers began approaching telecoms and other corporations, they found that even the high-level C-suite executives welcomed them into their offices, interested in learning about what they were doing. Ericsson, the Swedish telecom company, signed on as a partner, later followed by Omidyar Networks and Facebook's Free Basics. The H&M Foundation and the Ikea Foundation, among others, also became benefactors. 
The Mikkelsens identified one of the biggest pain points in the reunification process as the bottleneck that inevitably occurs when thousands of refugees are trying to use the services of a few overburdened NGOs all at once. Christopher explains that Refunite "flips that on its head and instead utilizes and harnesses the capacity of refugees' mobile phones as nodes and data gatherers, and through the mobile phones, begins to connect people to people instead of connecting organizations to people."
Refunite began to partner with major mobile network providers in regions hosting high-population refugee camps. Their technology would allow the org to target all of this network's subscribers in the refugee camps, and send out millions of text messages notifying them that Refunite could help them locate their missing family members. "And then, this is crucial," says Christopher, "we convinced the operators to provide free-of-charge services for everybody trying to connect with us. So the refugees could call and text us for free, to be assisted by one of the many call-center agents we had that spoke their languages. And that was how we collected massive amounts of data. 'Who are you? Where did you escape from? Who are you looking for? What would make them recognize you?'" Over time, the database grew and grew to its current global reach of over a million profiles. 
More recently, Refunite has extended the same tools that helped it build its database to the leaders of the refugee communities they serve. Their Relay app is a way to push out locally relevant information to everyone in a refugee camp or neighborhood. This can include details about food distribution, weather warnings, entertainment events, and more. Relay transmits using Bluetooth rather than incurring cellular data charges. Another new app from Refunite connects refugees with digital work (helping machine learning algorithms refine their image processing) they can perform—and get paid for—on their phones.
At its core, Refunite's mission is to get things moving toward progress. Says Christopher, "Even if you never find family, the fact that you can shift people from the perpetual waiting lists that you find in every camp and get them into action, or where they can make decisions on their own behalf to try and find information—that moves people into a way different state of mind where they once again are proprietors of their own lives. Technology is not a silver bullet. It's not a panacea. It has the possibility of leveling the playing fields.
"We do not provide charity," he continues. "We provide tools that empower. And that's important, because I truly believe in the dignity of enabling people to solve their own problems."