October 4, 2006. It's a date forever imprinted in Zaid Wadia's memories. That's when Wadia lost his 21-year-old brother-in-law to a bomb explosion in Baghdad. That singular moment served as a turning point for the family—it was when they decided to explore options for asylum in the West. 
Wadia could not have predicted that his long and tortuous journey through the refugee application process would deliver him to a small kitchen in Providence, Rhode Island, making a food completely foreign to him: granola. The Providence Granola Project, which morphed into Beautiful Day, helps refugees such as Wadia gain critical job-training skills. It's served as a lifeline for Wadia, his brother Maitham, and close to a hundred other refugees so far.
Even before the 2006 bomb that shook Wadia to the core, sectarian violence had reached a boiling point—Maitham had been hit by a bullet but narrowly survived. Options were running low. Wadia and his family emigrated to Damascus, Syria, in 2006 and in short order, he and his brother fled to Sweden with the help of an agent, hoping for asylum there. But eventually asylum was denied, and the brothers had to return to Syria in 2009 to start over. 
A year later, good news finally arrived: The brothers and their families would be granted refugee status in the United States. Wadia's wife's aunt had already emigrated to Tiverton, Rhode Island, so the family decided to move to the Ocean State. Today, Wadia lives in Cranston with his wife, Zena, and their four children, including a set of twins.
Wadia had studied food industry at the University of Baghdad and knew some English, but he and wife knew they would have to amp up their communication skills if they were to really establish roots in America. They started taking English lessons at the International Institute of Rhode Island in Providence. Now called Dorcas International, the institute's goals are to "provide education and job readiness opportunities but also legal services for citizenship and immigration and refugee resettlement programs." 
Wadia met Keith Cooper at the institute, where he taught, working closely with refugees and immigrants. For a long time, Cooper had been convinced there must be a simple, hands-on way of teaching essential job skills to refugees who might have a low level of literacy. 
Granola seemed like a perfect vehicle for the experiment. What if the refugees were offered jobs and learned the must-haves for work: the discipline to show up on time, to measure and toast the various ingredients needed, to function well as part of a team, and create the product from beginning to end? The Granola Project, the brainchild of Cooper and his friend Geoff Gordon, is the result of that experiment. After its inception in Cooper's own home in 2009, the nonprofit moved operations to the larger kitchen in Providence's Amos House, a social service agency managing the largest soup kitchen in Rhode Island. 
A few years ago it became time for the Providence Granola Project to re-brand. "We wanted something with a little broader appeal for marketing purposes," Cooper explains, adding that he and Gordon are U2 fans, so Beautiful Day, named for one of the band's most iconic songs, seemed like a good fit. "Maybe we'll also get Bono's support some day," Cooper adds. Today, Cooper is executive director, and Gordon serves as a board member. 
In deciding on the food that the refugees would be trained on, Cooper eliminated a number of options, including baked goods, which have a shorter shelf life. "The nice thing about granola is that you can make it with a stove top and a really good oven," he says. "You don't need a whole lot of specialized equipment." It helps that the folks who typically buy granola are also interested in Beautiful Day's work and its inclusive message.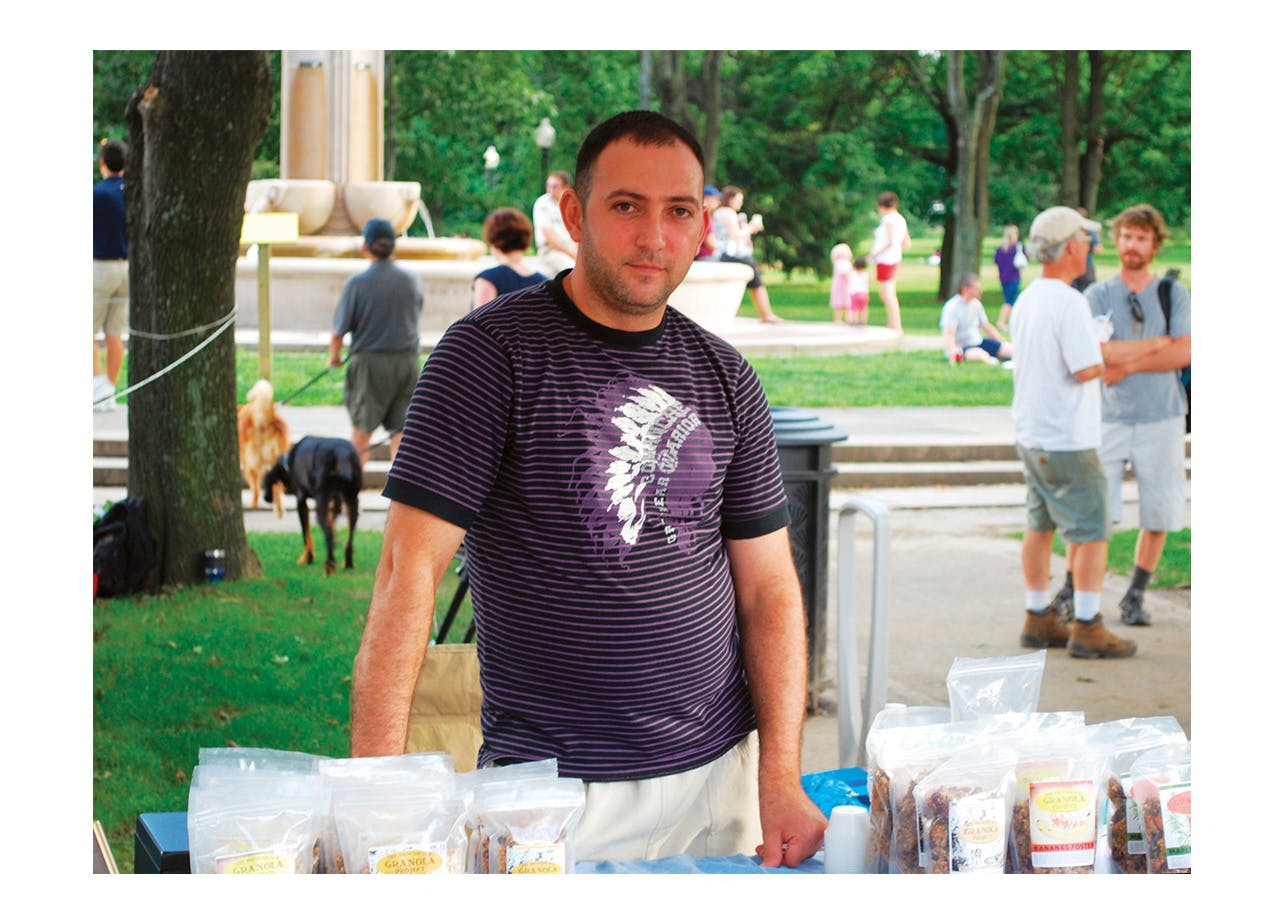 ZAID WADIA
OF BEAUTIFUL DAY.
Cooper says that he deliberately develops recipes with a lot of ingredients to improve the refugees' language skills. "In some ways, granola is just engineered to teach some of the language as they're working with ingredients they might not be familiar with. It's a bit like vanilla ice cream—you can try a lot of different flavors." Beautiful Day granolas always include Keith's Original recipe, but vary throughout the year, with monthly offerings that might include Pistachio Cardamom for March and Cherry Chocolate for February. 
Cooper's belief was that people didn't need language or literacy skills to have a job, and the employees at Beautiful Day have proven him right. The business takes on new refugees and puts them through the rigors of the training process —usually 300 hours—before they're ready to apply for other jobs in the area. Refugees from countries such as Myanmar, Liberia, Iraq, and elsewhere have graduated from the training program. 
The challenges encountered have not stemmed from lack of refugee language skills, Cooper says. "They talk with their hands . . . they show initiative," he says. "I have seen our employees share lunches and laughs. They communicate quite well despite the deficits of language."
On a recent visit, the chef, kitchen manager, and trainer Evon Nano, also from Iraq, bantered with fellow refugees from Syria and the Congo, while Iman, a production and training assistant, stirred hot honey into a large vat of Ginger Zinger muesli.
The biggest growing pains have come from more traditional aspects of the business, such as marketing and sales. "I'm a nonprofit person, and I think in terms of education, respect . . . but I don't know much about marketing," Cooper admits. "I am building a database for all our business and donation processes and think, 'Oh my god, that's a lot to learn.'" Beautiful Day runs on three full-time employees and 11 part-timers. 
Two-thirds of Beautiful Day's income comes from charitable donations, and half of that is from grants. Online sales and local farmer's markets revenues make up the rest. It was through a farmer's market that Wadia met an executive from the city's daily newspaper, the Providence Journal, who offered him another opportunity: inserting ad materials at the paper's distribution center. So now on top of this work, Wadia also handles deliveries and online shipping for Beautiful Day and attends to the farmer's market stands in the city. 
Nano, also a refugee from Iraq who fled along with her family, has been managing the kitchen and trainees for close to ten years. She moved to Jordan in 2006 before emigrating to the United States in 2008. "We were in the war, and everything was crazy," Nano remembers. The family made their way to Rhode Island, and Nano says she has been blessed to find work through Beautiful Day. One of her early meal attempts, at Cooper's request, was a Christmas dinner for a large party. "I think I made a Christmas cake, but it didn't look like an American Christmas cake," she says. After all, she had been in the country for just three months then. 
When Cooper suggested she try the Granola Project, Nano remembers not understanding what it was that Cooper was asking her to work with. "I was like, what is granola, do you eat it for lunch or dinner?" she laughs. 
Nano has come a long way since those early days. Now she also works part-time as salad chef at CAV, an upscale Providence restaurant, in addition to her job at Beautiful Day. She hopes to open her own restaurant someday, but she's cautious about next steps. "I know I can go to take money from bank," she says, "but I'm a little bit afraid person."
The work that Beautiful Day does is especially important, Cooper says, in today's politically charged climate. A bonus for Cooper: "I get to interact with interesting and amazing people all the time and attend so many fun weddings." This is the first step to breaking down barriers and starting a conversation instead of scaremongering, Cooper adds. "I just can't imagine any other president taking this approach of closing borders the way Trump has. Given the trouble that's brewing in Central America, we should be looking closely for dialogue, to engage with systems that work."
By all indications, this food-based training "system" indeed has worked in Providence, including for refugees like Wadia. It would be naive to assume that the business can cure all displacement ills, but it's a good start. Dorcas International complements much of Beautiful Day's mission and works closely with refugees on case management. 
For their part, the refugees are grateful for a chance to start anew. Does Wadia miss Iraq? "The situation in my country lead me to leave. My country refused me, so no, I don't," he says. After a pause, he asks, "You know what is your country? The place that you have safe, you have a job, you live in peace, that's your country."